USU VACATION VILLAGE PROJECT-
Tatsuya Nitta Print exhibition in Usu 2018.4.28 - 10.28
ACTIVITIES OF USU VACATION VILLAGE PROJECT
INTRODUCING A WONDERFUL PLACE OF USU
Usu Zenko-ji ZEN's Song
ZEN-chan  lives in HOKKAIDO
A mascot of Usu Zenko-ji 
A big  head looks like the  roof of the temple 
why are your eyebrows  so big ?
It 's  just my big smiles
where your wish will come ture
ZEN-chan always wishes for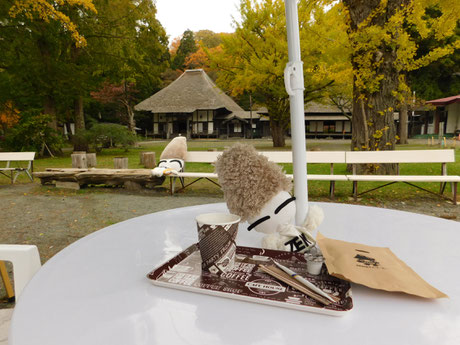 Top three scenic spots to visit in Usu.
Introducing three must see scenic spots in Usu.
1.Arutori Point
Arutori Point has breathtaking 360 degree panoramic views from where you can see Uchiura Bay, Mt. Komagatake and Mt. Usu.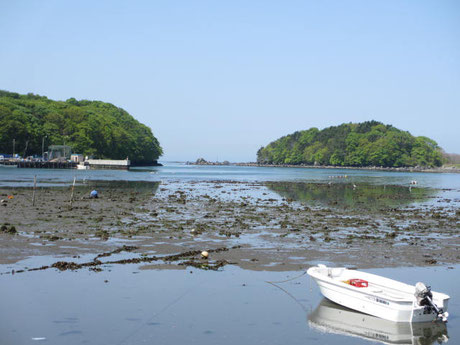 Usu Bay is a paradise for water birds such as swans. You can enjoy beautiful sunsets here.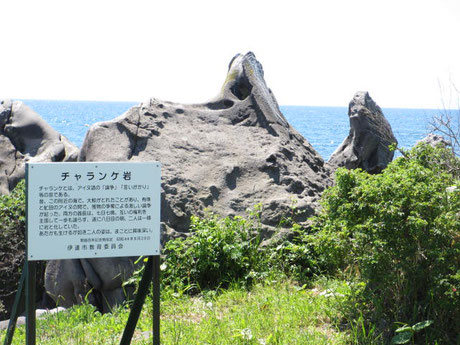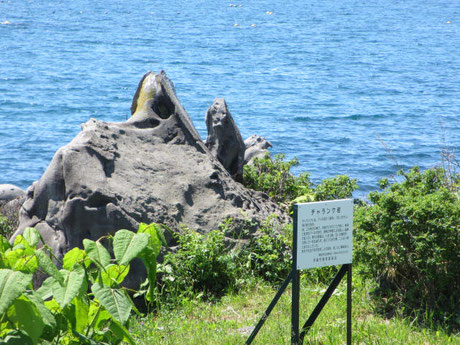 Two different Ainu tribes used to live in this area. Here is the story about Charanke Rock: One day, a large whale arrived in the waters near here. The two Ainu chiefs negotiated with each other for seven days until a decision was made as to which tribe owned the whale. The chief who won the negotiation proudly stuck his chest out in victory. The chief who lost the negotiation bowed his head low in defeat. The two chiefs then turned to stone and became the rock formation known as Charanke Rock. The word "Charanke" means "negotiations" in the Ainu language.
There is wonderful walking trail beginning at
John Batchelor Memorial Church
and continuing to Enmei Jizouson in Uso Cho, Date city, Hokkaido, which is both relaxing and healing.
Along this short walking trail there is a church,
a shrine and jizoudo.
We would like to take you step by step down this walking trail starting from Usu station.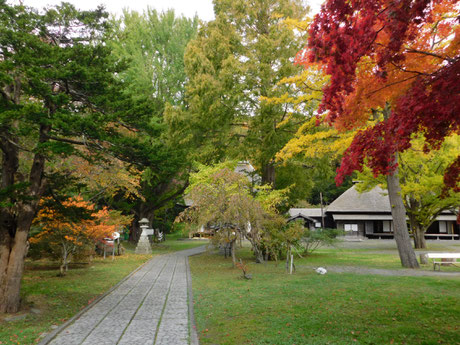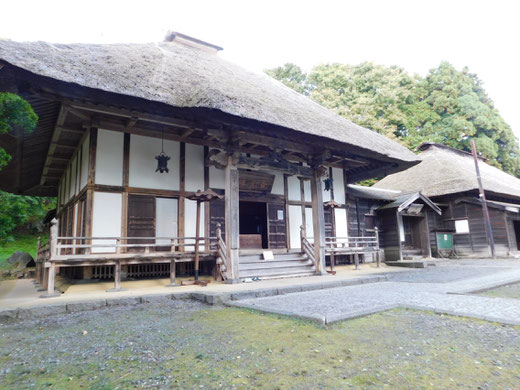 Usu Zenko-ji Temple 
was established in 826 AD and was formally recognized 
as one of the three official temples of Emishi (Hokkaido)
by Shogun Ienari Tokugawa. 
The temple also played an historically significant role during the late Edo period. 
Zenko-
ji has been designated as a National Important Cultural Asset.
We begin the trail at Usu station.
Usu station is located
between Date station and Toya station.
If you walk at a leisurely pace it will take you about ten minutes to go from Usu station to John Batchelor Memorial Church. The first point you will encounter along the way will be the Ishibashi store. This is the only store in Usu cho.
Make a left at the Ishibashi store, and as you continue walking you will soon see the John Batchelor Memorial Church.
Now we will return to the Ishibashi store on the same path we took to John Batchelor Memorial Church. From there we will go onward to Usu bay and Usu Zenkoji. This will take us toward Usu Zenkoji Temple.
When you arrive at the fork in the road, go towards the left. You will see the ocean on your left side, and to your right side you will see the red Torii (arches) of Ousuyama shrine. It is a tiny shrine.
The Ousuyama shrine is known to local residents as "Benten Sama." It is located by the ocean and is nice and quiet under the clear blue sky.
The Ousuyama shrine is known to local residents as "Benten Sama." It is located by the ocean and is nice and quiet under the clear blue sky.
There is a public restroom here. It is rare to see a public restroom in Usu cho.
You can use 24 hours.
Enmei (long life) Jizouson is next to the community center swan. The gate is open at all times. You are permitted to enter the gate even after the temple is closed.
This ojisousama ( Life extension Jizo )is a protector of the health of family and children. For example, if your mother has knee pain, rub Ojizousama's knee with a towel and then rub your mother's knee with the same towel. This is the way to pray to Enmei Jizouson.
Ojizousama is shiny at the places where people have continually rubbed him for protection and healing over the decades.
This place is full of positive energy, love and peace.
This short walking trail only takes a total of about eight or nine minutes to complete.
We invite you to please come visit this walking trail.

It will relax you and fill you with energy.